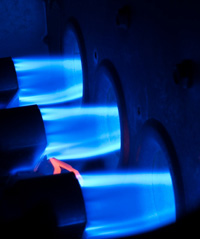 Gas furnace systems are comprised of two separate units: an outdoor straight air conditioning unit and an indoor furnace air handler unit.
Gas furnace systems provide heat for your home by using either propane or natural gas. An evaporator coil is attached to the front end of the furnace air handler section to provide cool air. As with heat pump applications, the straight air conditioner unit uses refrigerant R22 or R410-A to provide cool air for your home.
Annual servicing is extremely important with all heating and air conditioning systems; especially gas systems. For a list of services performed during our gas unit maintenance service please contact us.
As with all gas furnace systems, carbon monoxide poisoning is a risk if your heating system defaults. Please make sure to have at least one carbon monoxide detector in your home. All Comfort Heating and Cooling can assist in determining the proper locations for your carbon monoxide detectors, as well as install them the same day.
Get Yours Installed Today!