How to Choose HVAC Air Filters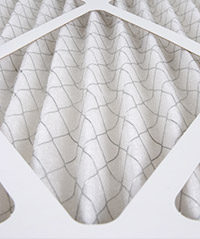 HVAC Air filters are a necessary component for your heating and air conditioning system as they keep dust and debris from entering the duct work and the units themselves. Choosing which HVAC air filters are best for your home starts with determining the indoor air quality desired. If your family is not sensitive to allergens such as pollen and dander, the standard disposable fiberglass air filter will do the job needed for your HVAC system.
When your HVAC air filters become dirty and are not cleaned or replaced (when disposable), several things can go wrong: your heat and A/C units strain to pull air through the return duct into the system to deliver the heating and cooling temperatures set by the thermostat; debris and dust can pass through the air filter and into your system which may cause damage; debris and dust can be dispersed back into your home through your duct system when they pass through a dirty air filter.
Below are a few examples of hvac air filters you will find on the market today.
Disposable Fiberglass Air Filters
Standard disposable filters are designed to help keep dust and debris from entering your duct work and HVAC system. When using standard fiberglass air filters, the recommendation is to change them at least monthly. Homes with pet hair, pet dander and/or high levels of dust may increase the frequency in which air filters need to be changed. Though these hvac air filters keep a large amount of dust and debris from entering your system, they are not designed to rid your air of all allergens. The typical disposable fiberglass air filter removes less than 10% of particles in the air.
Electrostatic HVAC Air Filters
Electrostatic air filters work by using specially engineered fibers that produce an electric charge that collects and traps air pollutants into the filter. This charge comes naturally by the air flow through these filters, no electricity is needed. Electrostatic air filters are to be removed and cleaned at a minimum of one time every three months. The frequency of cleaning depends on the level of dust, pet dander and allergens in your home. Most electrostatic air filters are designed to last a lifetime and can remove up to 94% of pollen, dander and dust in the air.
Pleated Allergen / Mini Pleated Allergen / Antimicrobial Air Filter
These disposable filters are designed with a thick, pleated material and catch up to 95% of allergens and other airborne particles. Pleated allergen filters direct the homeowner to change once every 3 months. Due to the extreme thickness of the filter and the collection of 3 months of dust, debris and allergens the filters can restrict air flow causing strain on your system. If allergens are a concern for your family, we strongly recommend not using these filters and move forward with an air quality product such as ultraviolet lights air cleaners or whole home air cleaners.
HEPA Air Filters
High Efficiency Particulate HVAC Air Filters (HEPA) are designed for commercial applications, not residential. You may find these on the market in the size you need; but do not be tempted by the fact that they do block virtually all air pollutants. HEPA filters are made of a material that will block air flow when used in a residential application.
Never Forget a Filter Again!