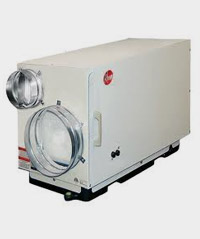 Extreme humidity levels in your home are not only uncomfortable, but may also become a health hazard. A damp environment can encourage growth of mold and mildew; lowering your indoor air quality. High humidity levels may also become a breeding ground for mites and bacteria. A whole home dehumidifier is a must have under these conditions!
To achieve better indoor air quality by removing excessive moisture from your home, a whole home dehumidifier can be installed to work in conjunction with your heating and air conditioning system. All Comfort Heating and Cooling installs dehumidifiers that are energy efficient, easily maintained, have advanced filtration and built-in ventilation.
Save Money with a Whole Home Dehumidifier
By having our HVAC service technician install a whole home dehumidifier you are not only improving the air quality in your home but also your energy bill during warm months. Homes with correct humidity levels keep your A/C system from running overtime as the indoor air feels cooler with lower humidity.
Find Out How To Save!