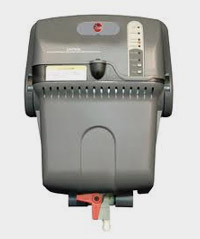 During winter months when the heat is on, some homes may have a lower level of indoor air quality due to the air becoming extremely dry. A whole home humidifier can help prevent this. Dry air can damage woodwork in your home and also make you feel uncomfortable by causing skin irritation. All Comfort Heating and Cooling can help increase your indoor air quality by installing a steam humidification system to maintain correct moisture levels.
Whole home humidifiers work in conjunction with your heating and air conditioning system. During the steam humidification process, a tank filled with water is warmed to a temperature that converts the water to steam. This steam is then pushed throughout your duct system and flows into your home. Providing humidity control in your home with the use of a humidifier not only increases your indoor air quality, but also decreases your energy bill during winter months. You will be able to set your thermostat to lower levels as air with more moisture feels warmer.
Get Your Whole Home Humidifier Today
Call All Comfort Heating and Cooling today if you feel your indoor air quality is not at the standard you are comfortable with. Our maintenance technicians will test humidity levels in your home and develop the correct plan of action for your family.
Schedule Your Test Today!