If you are looking for an air conditioning company in Wilmington who can repair, replace, or install all types of home heating and cooling systems, you're on the right site! We offer full AC repair, maintenance and installation services. Here at All Comfort Heating and Cooling, we provide superior service across all fronts. Call us now to get an air conditioning company who will do what's best for you.
From Monkey Junction and Carolina Beach, to Topsail and Surf City, we're your go-to HVAC and AC repair company, when you need it most.
Need an air conditioning company?
We can service all makes and models
Call us now (910) 805-7621
Air Conditioning Services in Wilmington, NC
When you need AC service, there are quite a few options in the area, we know. Our staff works hard to set us apart from the rest, and we hope you'll be quick to decide we're the only company for you after working with us! Our HVAC services in Wilmington NC and Hamstead are all-inclusive, and cover:
We offer emergency service around the clock, with no additional fees. Our technicians always lean towards repairing your equipment rather than selling you on a new system, and will do whatever it takes to get your equipment fixed, whenever it's possible to do so. We give our clients an estimate up-front so you'll know exactly what you'll be paying in the end -- no surprises.
AC Repair Wilmington, NC
If you're looking for an air conditioning repair company who puts their clients' needs above their own, and who will drop anything and everything to come help you, you've found us! For superior service any day of the week, give us a call. With the utmost of professionalism in both craftsmanship and customer service, we try to raise the bar for AC companies across the region. We put your needs first and foremost, and strive to do what will best benefit you -- not us -- in any given situation. If you need fast AC repair service, give us a call.
New AC Installation Wilmington, NC
If you do need a new AC system, we will ensure you get the absolute best value for your money and will give you a free estimate on the unit we recommend, as well as our installation services. We back up our installations with a 10 year warranty on all parts, and many of our AC units even come with a 10 year warranty on all labor involved, too. This is far above the industry standard, and just one more thing we do to try and make your life as easy as possible when you deal with us. It is our hope that when you're ready to hire an air conditioning company, we're your first choice!
Heating Repair
Our HVAC technicians can also service all makes and models of gas furnaces and heat pumps. No matter what the problem is with yours, we have the training, experience and skills to diagnose and repair it rapidly, and get it done the right way. Our staff are also experts in pairing the perfect heating system to your home's needs, and offer free estimates on new heating equipment. Give us a call to get started!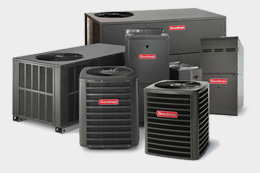 Central Air Conditioning
Whether your system needs routine maintenance to ensure it keeps running smoothly all year long, or it's already stopped working, our AC technicians will provide the exact service your air conditioning needs. Our solutions are always tailored to you and your situation, and we respect both your time and your money. We don't agree with throwing away your hard-earned cash, and will work hard to repair your AC system wherever possible. If you need an air conditioning company for your home's AC, give us a call!
Our HVAC technicians can service
All types of heating and cooling systems
Call us (910) 805-7621
Call us if you need an air conditioning company in Wilmington, Carolina Beach, Hampstead, Surf City, Topsail, Leland, Sneads Ferry and surrounding areas.