We can install ductless systems in homes where owners are interested in getting a more efficient climate control in a particular area of the house. Through the use of mini-split air conditioners, we can give you an extremely energy efficient and reliable source of heating and cooling in the exact location you want it. Call to get your free estimate!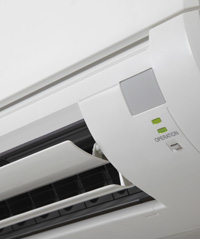 Looking into installing
A ductless system for your home?
Call us (910) 805-7621
Install Ductless Systems
Many homeowners these days are choosing to install ductless AC systems in their homes due to their high energy bills, not needing the full coverage of their central air conditioning system, or simply wanting a specific temperature in a certain localized area. With mini-split air conditioning units, this is made extremely easy.
That's because these units require no ducts (as the name would imply), and simply allow the freshly cooled (or heated) air to flow straight into the zone or room that you would like to get that extra attention. It is a clean and easy installation on our end, as there is no ductwork to worry about, and it is a lower energy bill on your end.
While most heat pumps have a energy rating of around 13 SEER, ductless systems frequently have average ratings as high as 23 SEER. They are designed to take up minimal space and the air handlers can be installed on either your wall, or even on your ceiling, to stay out of the way.
Ductless systems have certainly come a long way; in the past, you were confined to a window unit, which then took away your ability to use your window, and you were stuck with an unsightly, large, and noisy presence there. Nowadays, if you want specific heating or cooling in a room or zone, it's easy to accomplish with a mini split system!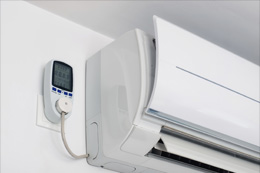 We strongly advise against purchasing any HVAC equipment, ductless systems or otherwise, off of the internet as you really have no verification of the quality. Not to mention that the sellers or manufacturers don't give you any warranties on parts if you purchase the unit online, and without a professional installation, that might become a problem quickly.
If you are looking to get a ductless system installed in your home, just give us a call. Our service can't be beat, we do expert installations on all types of systems, and we offer excellent warranties. We even do free estimates on new equipment, so what are you waiting for?
If you'd like to start getting air flow into a particular room straight from the air handler, without the need for a duct system, call us to find out how a mini split could be the solution for you. Whether you are adding it into an existing structure, a garage, a shed, or some other area that needs extra air flow, we can help!
If you're interested in the ease and comfort of a ductless system, get a free estimate, call us (910) 805-7621.
We install ductless air conditioning systems in Wilmington, Hampstead, Surf City, Leland and surrounding cities.