Central air conditioning maintenance is one of the very best things you could do to take care of your heating and cooling system. We cannot stress enough how important it is to take care of your equipment to prolong its life, and lessen your expenses, and frustrations, with unnecessary breakdowns and HVAC repairs. Call to find out about our HVAC maintenance plan!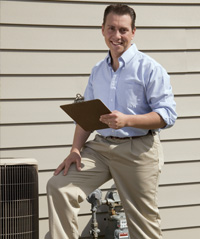 We will give your AC the care it needs
To keep running longer!
Call (910) 805-7621
Central Air Conditioning Maintenance Plan
Living in an area with a lot of salt spray in the air, the central air conditioning systems in our region tend to break down even before the manufacturer's estimated lifespan is up.
There really is only one way that you can prevent that from happening to you, and help your equipment run efficiently for as long as possible, and that's by registering for a central air conditioning maintenance plan. We are happy to offer this valuable deal to our clients, as we want to see you doing well year-round.
We certainly hope you'll be quick to realize the benefit of signing up for regular central air conditioning maintenance. Can you imagine going a full year without servicing your car? Without an oil change, or a tune up? Neither can we! Your air conditioner needs that same amount of care, too. Just like a car, if you go too long without getting it serviced, its efficiency goes down, parts start to wear out, and eventually, it will fail.
With as much use as your central AC gets while protecting you from this southern heat, it deserves a little TLC throughout the year. Our maintenance plan actually saves you quite a bit of money in the long run, too. Imagine being able to keep your air conditioner for the full expected lifespan, rather than having to replace it prematurely, or to not suffer with continual breakdowns in the hottest months and deal with unnecessary AC repairs … it sounds good, doesn't it? Call to find out more about our central air conditioning maintenance service in Wilmington, NC and surrounding areas!
Preventive HVAC Maintenance
Our technicians will service your HVAC equipment twice a year, right before it gets hot, and then again just before it gets cold. We inspect the full central AC system, including the ducting!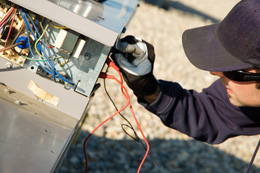 These tune-ups ensure that your system is operating at peak efficiency and that no problems are on the horizon. This will not only prevent upsetting breakdowns, HVAC repairs, or ruptures to your daily life, but it can also keep your energy bills reasonable and prolong the life of your equipment, too.
Moreover, if you are a member of our central air conditioning maintenance plan and you end up needing a service call for some reason, we waive the service call fee for you. Not to mention if you need any replacement parts for your system, we give you a 10% discount.
We really do try to be the AC company you can come to for anything you may need, and we keep your best interests at heart here. Give us a call and let us know what you're concerned about with your system -- we'll come up with the tailored solution for your needs!
An AC maintenance plan will make
Your life easier -- and much more comfortable!
Call (910) 805-7621
We provide central air conditioning maintenance in Wilmington, Carolina Beach, Surf City, Hampstead, and surrounding areas.