Does your home's HVAC system need heat pump repair? Our technicians are familiar with all makes and all models of heat pumps and will be able to repair or replace any of them. We offer complete services for your home heating system and will find the correct solution tailored to your needs. Call us now for fast and effective heating repair service! Refer a friend today and you both get $50 toward your next HVAC repair over $200.
Is your heat pump not working?
We'll get it fixed in no time!
Call (910) 805-7621
Heat Pump Repair
Your heat pump is used not only to keep your house warm in the winter, but it also functions to keep your space cool in the summer. More than likely you have an air source heat pump, which takes hot air from one space and transfers it to another. In the winter, it removes heat from the air outside and brings it into your home. In the summertime, it removes the heat from the air inside your home and transfers it outdoors.
As you can imagine, your heat pump gets a lot of use throughout the year and needs a certain amount of attention to keep it running smoothly. If you need heat pump repair or maintenance, our HVAC technicians are the ones to trust it to.
We only hire heating technicians that have been through thorough background tests, and whom we would feel comfortable inviting into our own homes at any hour of the day. Our HVAC technicians then go through rigorous training to stay at the top of the our industry in the latest methods, equipment and standards.
You can be sure that when you call us for heat pump repair, or any other of our services, we will get it done properly. We aim to offer a superior level of service with complete customer satisfaction on every single job we do. As members of the Better Business Bureau and Angie's List, you can have peace of mind that we stand behind our work 100% and will always be there for you.
Our staff are expert with all types of heat pump repair and maintenance, so no matter what make or model you have, we'll be able to fix it. We make a promise to our customers that if it is possible to repair your heating system, no matter how difficult the repairs are, we will get it done rather than try to sell you a new system.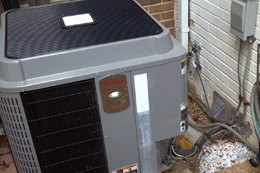 We know there are some heat pump repair services that will take a look at your equipment and instantly to try to sell you on a new heating system, and we vow to never do that to you. Our entire business is centered around full customer satisfaction on every single job, and we go out of our way to provide you with the best service in the business. Give us a call to get fast and effective heat pump repair for your home.
Heat Pump Installation
If it is time for you to get a new heat pump installed at your home, there is no better heating company in the area to trust it to. We offer free inspections and estimates where one of our technicians will come out to your home and determine which system will give you the most benefits for the longest amount of time. Our technicians have extensive knowledge in the area and are experts with pairing homes to proper heating systems. If you are considering getting a new gas heat pump, give us a call and let us show you how we can help.
Need a new heat pump?
Call to get a free estimate!
Call (910) 805-7621
We provide heat pump repair in Wilmington, Surf City, Leland and other local cities.