If you're looking for a gas furnace service that can provide the repairs or maintenance your system needs, you're on the right site! Not only can we repair all makes and models of gas furnaces, but we also can help determine the exact right unit for your home if you are looking to install a new home heating and cooling system. Call now to reach one of our heating specialists!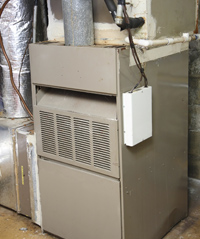 We service all makes and models of
Gas furnaces -- call us now
(910) 805-7621
The gas furnace services we provide include:
Gas furnace repair
Propane furnace installation
Gas furnace maintenance
Local Gas Furnace Service
We know that you have a lot of choices when it comes to selecting a gas furnace service for your home. We strive to make it an easy choice for you once you've dealt with our professional heating technicians. Our goal is to provide the exact services you need, and to always put your needs above our own.
We have several policies we operate off of here; the first of which is that when we give you a 2-3 hour window when one of our technicians will be at your home, that is exactly when we will arrive. If we are late, you don't pay the diagnostics fee!
Second is we have a no-surprises guarantee: when we have done the diagnostic inspection on your home heating system and found the problem, we will give you the exact estimate with our up-front flat-rate pricing policy, so there will be no surprises at the end. What we quote you for the gas furnace services is exactly what you'll pay at the end.
And finally, if there is a way to repair your gas furnace or heating system, we will get it done, no matter how much work it takes, rather than try to sell you a new system. We respect your time and your money, and won't throw it away!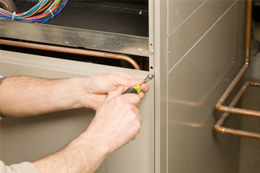 If you're looking for a gas furnace service to take good care of you and your home, we urge you to give us a call and see how we're different from the rest. Our staff are extremely knowledgeable in all makes and models of gas furnaces, and will be able to help you decide exactly which way to go with yours, and how to get the most benefits from it. Give us a call now and see for yourself!
Gas Furnace Installation
If you are looking at installing a new gas furnace, let one of our heating technicians come out to your home to help you select the right unit for your home. We have superior knowledge and experience in the industry, and know which systems will do best for which homes. We know that some heating system manufacturers have great marketing, and make you think that their units are the only ones for your home. Our gas furnace service specialists have the expertise to steer you towards what will give you the most value for your money, and oftentimes it is a lesser known brand that does more and costs less. Give us a call today and set up your free inspection and estimate!
Looking for a new propane furnace?
Let our specialists give you a free estimate!
Call (910) 805-7621
We provide gas furnace service in Wilmington, Surf City, Leland and nearby cities.