We are able to repair your home heating system if you are feeling the chill. Whether you've got a gas furnace, a heat pump, or a packaged unit, we can repair all makes and models. If you're looking at replacing your current heating system and getting a new one, call to set up your free estimate!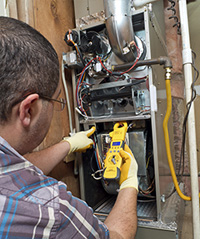 Home heating system not working?
We'll fix it fast -- call now
(910) 805-7621
As a local heating and cooling service, we handle most home systems and their needs, including:
Heating installation
Install gas furnaces
Gas furnace repair
Install heat pumps
Heating system maintenance
Home Heating System Repair
Your home heating system gets a lot of use during our cold winter months, and even during our chilly nights throughout the year. It's common to have a heating system stop working if it's gone too long without a tune-up, but sometimes other things can cause problems with it, too.
Here's a few things to look for before you call us for help:
Air filters -- dirty air filters cause more problems than almost any other issue with a heating system. If yours is dirty, replace it and let your system run for at least a half an hour. If the temperature is still not ideal, give us a call, as there's something else wrong.
Tripped breaker -- there are a lot of other electrical elements that could have tripped your breaker aside from your home heating system. Reset the breaker and let your heating system run for about 10 or 15 minutes; if it trips a second time, don't reset it but call us right away. There could be a serious problem at that point and one of our heating technicians will fix it for you.
Strange noises -- if you are hearing banging, knocking, or buzzing sounds coming out of your home heating system, please record them with your phone before you call us. We can't tell you how many times we get called to come repair a heating system, and the noises are no longer there. If you can record it when it is happening, it will make it much easier to locate the problem when we come out to your home.
System running continuously -- this can also be caused by dirty air filters, as these restrict the airflow and the system will automatically continue running to try to pull the air through regardless. During days with extreme temperatures, the system will naturally run more, but this could also be caused by a problem with your HVAC equipment. Give us a call to get a thorough diagnostic evaluation done so we can find what's causing your home heating system to run continually and get it fixed, and start lowering your bills.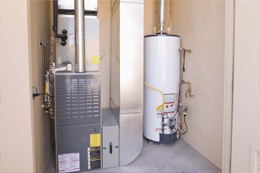 The above common problems being covered, there isn't enough emphasis we can put on signing up for our HVAC maintenance plan. Getting a semi-annual tune-up from one of our heating specialists will ensure your system is kept in top shape to give you peak performance throughout the year, and avoid frustrating breakdowns and repairs. Call now to find out more!
Install Home Heating Systems
If your heating equipment is up there in age, or has failed on you entirely, it's time to replace it out. Our staff are extremely knowledgeable in all makes and models of heating systems, and will be able to do an evaluation of your home and make a proper recommendation of the right system for your needs. We have a deep understanding of the industry and the different units available, and will help you find the perfect heating system for your home.
If you're in the market for a new heat pump or furnace, call us to get a free estimate. Our installations come with a 10 year warranty on parts, and most even come with a 10 year warranty on any service, as well. We strive to exceed your expectations in every aspect here, and hope you'll choose us for your heating services!
If your home is feeling the chill
Pick up the phone and call us
(910) 805-7621
We repair home heating systems in Wilmington, Surf City, Leland and nearby areas.