If you're looking at getting an air conditioning installation at your home, let our team of experienced technicians help make it easier for you. We offer a free in-home consultation to evaluate the needs of your family and your home, and lay out which options will benefit you the most. Call now to schedule your free AC installation estimate!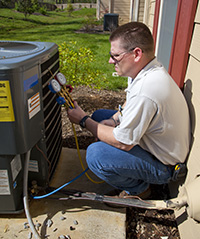 Ready for a new AC unit?
We'll make it simple for you
Call (910) 805-7621
When it comes to putting in new air conditioning systems, we do it all, including:
Central AC installations
Duct installations
Ductless system installation
Home Air Conditioning Installation
We know that when it comes time to get a central air conditioning installation done, you want to make sure you pick out a unit that will keep your family comfortable for a long time to come. Our staff are extremely trained in the business and know how to determine which units will benefit your unique home and its setup.
We know that a lot of AC manufacturers have some great marketing going on, or make certain features sound extremely desirable. Our AC technicians will sit down with you to help you decide what you really need, and what you can do without. Sometimes a lesser-known brand has a better product that you might not have known about, and for less money. Our goal is to give you the best bang for your buck not only immediately, but every month when you receive your energy bill from here on out.
As a free service to you, we will come out to inspect your home and help you determine which systems will give you the most benefits not only during, but also after the air conditioning installation. We'll then give you a free estimate on these systems and when you decide which one you feel most comfortable with, we will get started with the installation.
We take great pride in our level of quality of service, and strive to exceed your expectations in every respect when you trust us with your air conditioning installation. During the summer months, it can be unbearable to go without a central air conditioning system for even a few hours, and we understand that. We will even bring out a portable air conditioner to keep your space at a decent temperature while we perform the installation.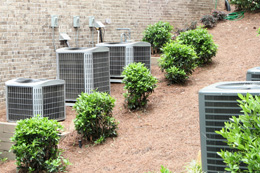 We are so committed to your full satisfaction with our services, that not only do we provide a full 10 year warranty on all parts when we do an air conditioning installation, but we also go above and beyond what most AC companies would think of doing. We also provide a 10 year warranty on labor on most of our new systems that we install as well. That means you can have complete peace of mind for the next decade that your system will continue to operate smoothly, just as it did when we left your home after the initial installation.
All of our staff are our own employees; never subcontracted workers. That means that you get the same caring touch with us every single time you call, whether it's today, or ten years from now. We certainly hope you'll be quick to notice the difference once you've started working with us! What have you got to lose? Contact us today to set up your free estimate! We offer military discounts to our veterans, thank you!
We take the stress out of getting
A new air conditioning installation
Call us (910) 805-7621
We do air conditioning installation in Wilmington, Hampstead, Surf City, Leland and nearby locations.