When you need air conditioning repair it quickly becomes the most important thing in your life; so it becomes our first priority, too. When you call us for help with your AC, we'll give you an exact window when we'll be there ASAP -- and if we're late, that service call is free! Refer a friend today and you both get $50 toward your next HVAC repair over $200.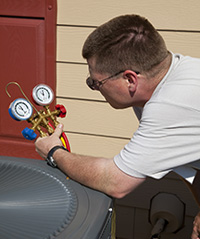 Is your central AC having problems?
Call us to get it fixed for good
(910) 805-7621
Air Conditioning Repair Service
The central air conditioning in your home has a lot resting on its shoulders; it can't shut down for any length of time. We love Wilmington and our beautiful beaches, but unfortunately, in the area we live in, salt spray and other factors tend to lend a hand to our air conditioners breaking down more frequently than we'd like.
Fortunately for you, our air conditioning repair service area includes everywhere from Wilmington, Carolina Beach, and Monkey Junction, all the way to Hampstead, Surf City, and Topsail. We know the area. We know HVAC. And we know the unique climate.
That's why our air conditioning repair specialists provide a total service -- from a diagnostics test to find out exactly what's wrong with your system, and where it's operating inefficiently; to giving you an up-front, solid estimate on exactly what it will take to get it functioning efficiently again; to routine maintenance services so you don't have to go through the frustration of losing your central AC on the hottest day of the year.
When you leave your air conditioning repair to us, we won't let you down. We respect your home, and value the trust you place in us to get it comfortable again, and will work hard until it's done. Our AC technicians never shortcut anything; if there is a way to fix your central air conditioning system, we will get it done! We have a policy to never try to sell one of our clients a unit they don't need; we will always work to provide the right air conditioning repair service that will get it going again.
Moreover, we put a great deal of emphasis on HVAC maintenance -- if your system were to be checked up just twice a year, you could prevent all manner of unnecessary repairs and premature replacements. Plus, when you are a part of our maintenance club, if you happen to need any repair services between visits, we'll give you free service calls, and you get 10% off of any needed replacement parts.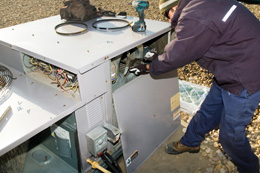 This program really does save you a lot of time, money, and frustration, and we encourage you to ask us about it!
24/7 Air Conditioning Repair
We know that most times when your central air conditioning system stops working on you, it's going to be at the most inconvenient time. Whether it's late at night, an unthinkable hour of the morning, over a weekend, or even a holiday, you still need fast help in this southern heat. Our phone lines are manned 24/7 by our own staff -- never a machine, and never an answering service -- and when you need urgent help with your AC, we'll be there immediately.
Whenever you need AC repair
We're here for you
Call now (910) 805-7621
We provide air conditioning repair in Wilmington, Hampstead, Leland and nearby cities. Contact us today for a quote!