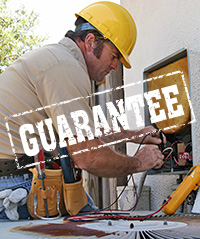 On Time All The Time
Our air conditioning repair technicians will not leave you waiting. We know your time is valuable; therefore, we do not expect you to have to stick around all day for a service call. Unlike many companies 4-8 hour time frames, we set 2-3 hour windows for appointments. This keeps you from having to schedule an entire day to be at the location. If our air conditioning repair technicians are ever late for a service call, we waive the diagnostic fee. We WILL be on time, guaranteed. For efficient and prompt air conditioning repair, trust our dedicated technicians to prioritize your comfort and ensure timely service.
We Guarantee Our HVAC Repairs
There are newly installed HVAC parts that fail due to manufacture defect. It's not our fault, it's not your fault. We do not believe All Comfort Heating and Cooling clients should pay for the labor to re-install the new part. We will return to the property and install a new part to replace the defected part for a full year after the initial repair was made. Most HVAC parts have a 1-year part warranty through the manufacturer. Rest assured, our commitment to quality extends to handling the entire process of defect returns and warranty forms, providing you with seamless air conditioning repair services at no additional cost to you.
Fast Response Time
Performing air conditioning repairs up and down Southeastern North Carolina takes specific skills and programs when it comes to providing the fastest response time possible. When you
call All Comfort Heating and Cooling
we look at where our air conditioning repair vans are in real time. From there we find the technician that can provide the fastest response time for you. We want to restore your comfort ASAP.
Diagnostic fee waiver applies when a technician arrives late for an appointment without the following situations: extreme weather conditions or vehicle/health emergencies.