Is your home's central air conditioning not keeping you as cool as you'd like it to? Not only do we perform AC repairs, but we can also replace and install any make or model of central AC on the market. If you need help with your air conditioning system, pick up the phone and call us!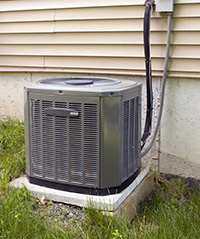 Need help with your central AC?
We're available now
Call (910) 805-7621
Our services include:
Central air conditioning maintenance
Ducting inspections
Central Air Conditioning System
When you call us for help with your air conditioner, we will be there quickly to get it fixed. We make a couple of guarantees to you right off the bat: the first is that when we give you a short window of when one of our technicians will be there, that is when we will show up. If for any reason we are late, you don't pay the diagnostics fee, and that service call is completely free.
The next guarantee we make you is that our staff will be able to locate the problem with your central air conditioning system. No matter what the problem is, we will perform a full diagnostics evaluation to locate it and go over any repairs needed with you before any work is begun. Our flat rate system makes it easy and upfront, so there are no surprises at the end.
The service technician will explain to you exactly what is wrong with your system and what needs to be done to fix it. He will give you an exact estimate of the final charges, and once we have your agreement on it, we will get to work to fix it for you.
Our last guarantee to you is that if your central air conditioning system can be fixed, we will fix it! We will not try to sell you a new air conditioner to get out of some good old fashioned hard work. Our AC technicians are highly trained and competent in the field, and will always opt to repair your equipment wherever possible.
Our staff take great pride in the fact that we will put in the extra work it takes to repair your HVAC equipment wherever possible, where most AC companies would give up and try to sell you a new system. We treat you and your home with the respect we'd give our own -- we know that you have invited us in your home in order to make it more comfortable, and we appreciate that opportunity.
We are able to handle all aspects of central air conditioning service, from routine maintenance and ducting inspections to prevent premature breakdowns, to emergency repair service in case your system does shut down unexpectedly, and also full AC replacements when it's time for an upgrade.
If you suspect that your central AC isn't working as well as it should be, or are experiencing problems with it, just give us a call. Our phones are manned at all hours of the day by our own staff -- never an answering service.
We can fix all makes and models of
Central air conditioning
Call (910) 805-7621
We will install, repair and replace central air conditioning in Wilmington, Hampstead, Surf City, Leland and nearby cities.