When you need an emergency air conditioning service, you can count on us to be there for you at any time, day or night. We know how uncomfortable it can be to have to go any length of time without your central air conditioning, and we don't make you suffer. Our phones are manned by our own staff around the clock, so call us now for fast AC repair response time with no additional overtime charge!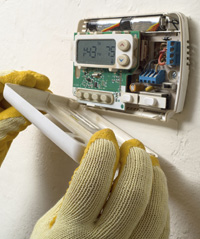 AC not working?
We'll be there immediately!
Call now (910) 805-7621
24/7 Emergency Air Conditioning Service
Your central air conditioning system probably won't be considerate of your schedule when it stops working on you, so we offer 24/7 emergency air conditioning service for those times when you just need someone who can fix it fast. No matter the make or model of your system, we can fix it, just call.
Our technicians are hard working and dedicated to your full satisfaction, with one goal in mind: to get you comfortable, fast. We understand that it's hard enough having your AC shut off on you late at night, or over the weekend, and you don't need to spend hours waiting around for your AC company to show up, too. When you call us for emergency air conditioning service, we will be there as soon as possible, oftentimes on an immediate basis.
For your comfort, and your safety, we only hire AC technicians who have gone through rigorous background checks and whom we would feel comfortable having in our own homes, around our own families. You can be sure that when you call us for emergency air conditioning service, even if it's 4 AM, you will have peace of mind when one of our technicians gets to your home that you are in good hands. So no matter what day or time it is now, give us a call if you need help fast. Remember, we never charge extra for it being a night or weekend!
Emergency Air Conditioning Repair
Some of the most common problems we see with central air conditioning systems are silly things that could often have been prevented with routine maintenance. Things like clogged drain lines, mis-wiring, dirty air filters and low refrigerant cause a majority of the problems we see when we get called for emergency air conditioning service.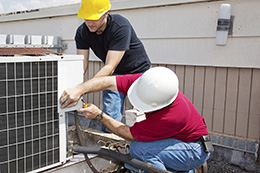 If your air conditioner isn't working properly, it's turned off entirely, or just isn't cooling your home, give us a call. One of our technicians will be out there rapidly to find the real problem and fix it for good. Our staff have undergone rigorous training to ensure that we can diagnose any potential problem with your equipment, no matter its make or model.
We are proud to say that no matter what kind of emergency air conditioning service your system needs, we will always lean towards repairing it rather than trying to sell you a new unit. Our teams are hard working and dedicated to doing what's best for you -- not for us. You can be sure that when we have found out what's wrong, if there's a way to fix it, we will!
No matter what time it is
We'll be there for you
Call (910) 805-7621
We offer emergency air conditioning service in Wilmington, Hampstead, Surf City, Leland and nearby areas. Contact us today for a quote!