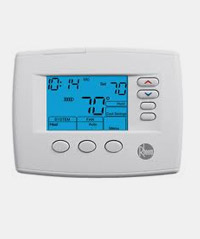 The
thermostat
in your home controls your entire heating and air conditioner system. It senses temperature differences, knows when to turn on auxillary heat strips and more. Today when shopping for a new thermostat, you will be choosing from different types of digital
products
. With always advancing technology you can choose from wireless or wall mounted thermostats; basic digital thermostats, programmable thermostats and now All Comfort Heating and Cooling can offer you smart (self programmable) thermostats.
Basic Digital Thermostats
These HVAC controlling thermostats offer just what you need to run your heating and air conditioning system. They have the basic functions such as on/off, heat/cool, and fan on/auto.
Digital Programmable Thermostats
These thermostats allow you to set timers and temperatures. This is convenient when you have a weekly schedule that never changes. If you always leave your home at 8 am you may want to program your thermostat to move the temperature up a few degrees (during the summer) and then set it to cool back down for you before you get home at 5 pm.
Smart (self programmable) Thermostats
Nest thermostats are one of the most advance heating and air conditioning thermostats available to you today.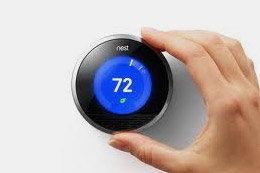 All Comfort Heating and Cooling service technicians have attended Nest training and are fully certified to properly install your Nest thermostat. We will also walk you through set up and understanding the functions and programs available to you on your smart phone, tablet or PC. Nest thermostats offer the best in convenience and comfort to you by: self programming themselves, providing you with energy usage reports, sensing your humidity levels, and they can be controlled at any time from any where you are through your smart phone, tablet or PC. For more information about what Nest can do to increase your home comfort, contact All Comfort Heating and Cooling today.
Increase Your Home Comfort!